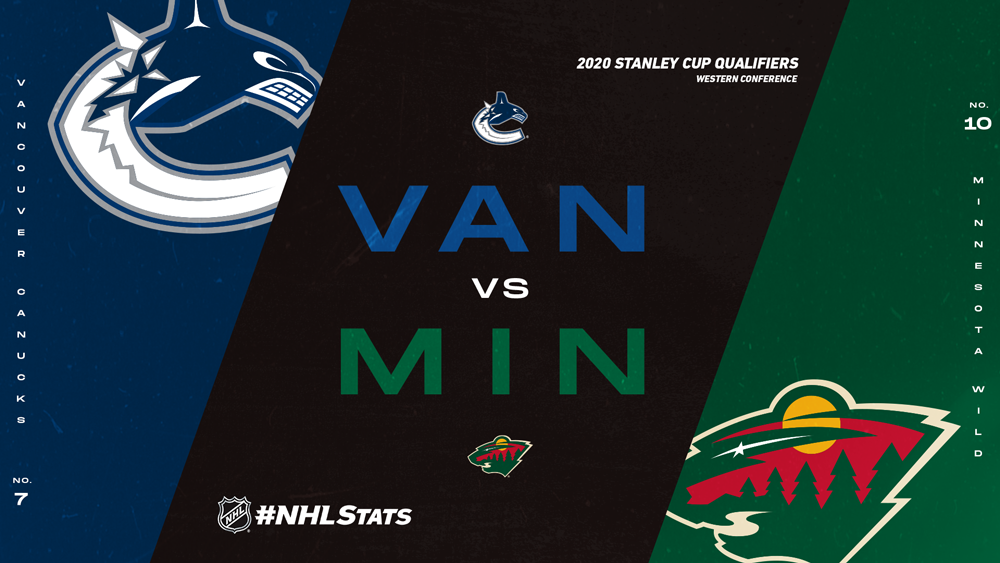 NHL STATS & INFORMATION NOTES
2020 STANLEY CUP QUALIFIERS: VANCOUVER CANUCKS (7) VS. MINNESOTA WILD (10)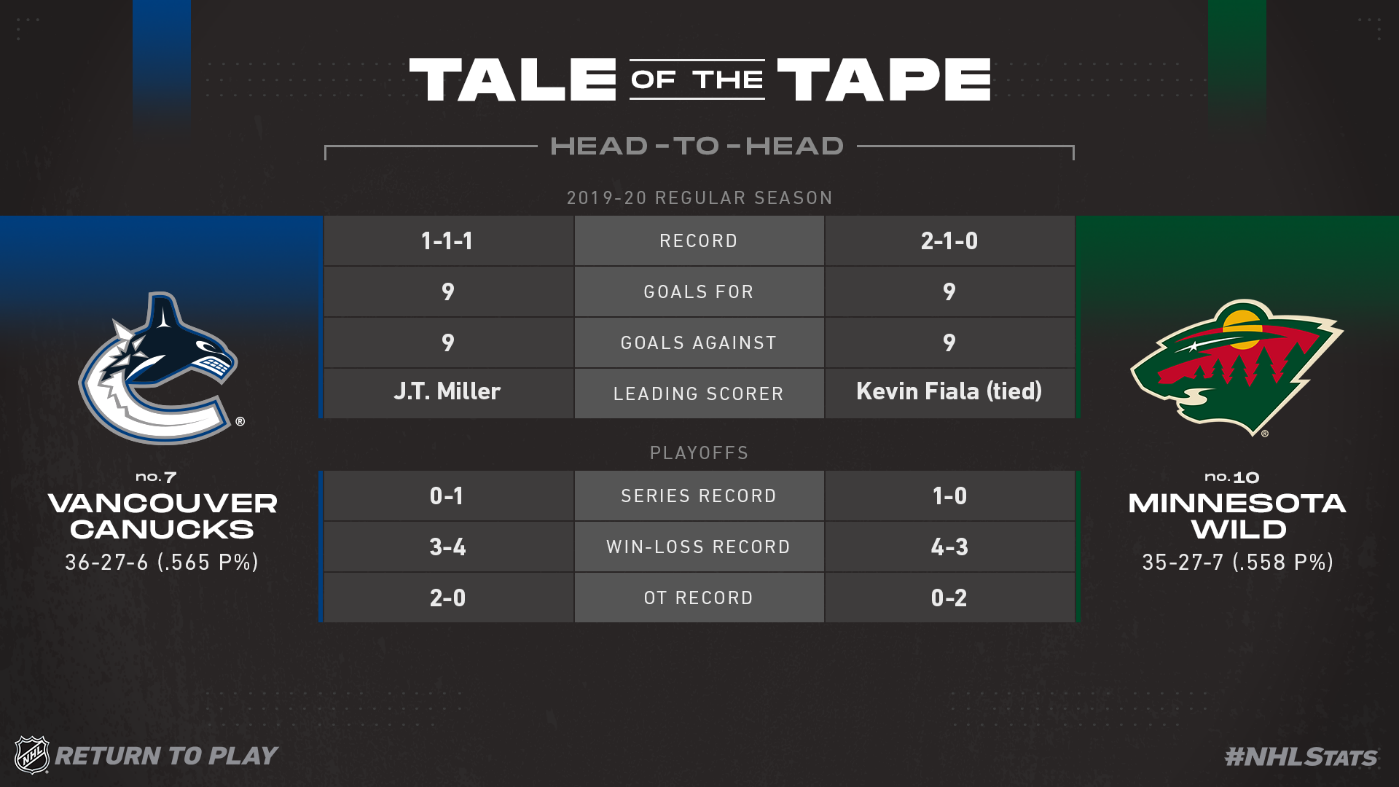 #NHLSTATS: VANCOUVER CANUCKS
* Vancouver is one of 10 non-Original Six franchises to make at least three appearances in the Stanley Cup Final, doing so in 1982 (4-0 L vs. NYI), 1994 (4-3 L vs. NYR) and 2011 (4-3 L vs. BOS). Philadelphia paces the grouping with eight trips to the Final, winning twice.
* Vancouver has the fifth-fewest combined games of postseason experience on its roster among resuming teams (482 GP) – ahead of Edmonton (480 GP), Montreal (400 GP), Columbus (383 GP) and Calgary (343 GP). Minnesota (599 GP) has 117 more games of playoff experience than Vancouver.
* Four Canucks dressed in the club's last postseason appearance in 2015 (min. 1 GP in NHL in 2019-20): Sven Baertschi, Alexander Edler, Bo Horvat and Christopher Tanev.
* Edler (8-23—31 in 65 GP) is one of two defensemen in Canucks history with at least 30 points in the Stanley Cup Playoffs (Jyrki Lumme: 9-31—40 in 72 GP). Edler sits two postseason goals shy of matching Kevin Bieksa (10 G in 71 GP) for the franchise mark by a blueliner.
* In-season acquisition Tyler Toffoli, with 10 points in his first 10 regular-season games with the Canucks (6-4—10), is one of three players on the team with a Stanley Cup on his resume – he and Tanner Pearson won with Los Angeles in 2014. Jay Beagle (2018 WSH) is Vancouver's other Cup winner.
* Quinn Hughes had 8-45—53 in 2019-20 to join Bobby Orr (1966-67) and Brian Leetch (1988-89) as the third defenseman in the NHL's modern era (since 1943-44) to lead all rookies in scoring in a single season (outright or tied). Only five rookie defensemen have recorded a playoff point for the Canucks, with only two recording more than one: Neil Belland in 1982 and Jiri Slegr in 1993.
* Hughes will celebrate his 21st birthday on Oct. 14, 2020. Should he find the back of the net in the playoffs, he would become the 10th player in Canucks history to score a playoff goal before age 21; Garth Butcher is the only defenseman currently on that list.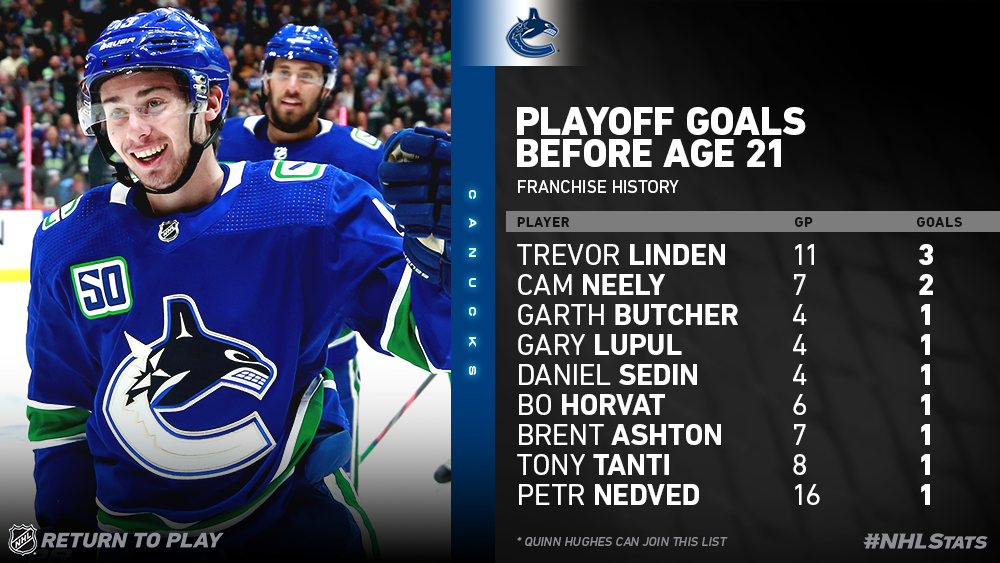 * J.T. Miller had a career-high 72 points in his first season with the Canucks (69 GP), including 20 multi-point games. Only three players had more points in their first season with the club: Alexander Mogilny (107 in 1995-96), Greg Adams (76 in 1987-88) and Barry Pederson (76 in 1986-87).
* Miller also shared the team leads in goals (27) and assists (45) in 2019-20, tying Elias Pettersson (27 G) and Hughes (45 A), respectively. In doing so, Miller joined Pettersson (28-38—66 in 2018-19) and Mogilny (55-52—107 in 79 GP) as the third player in Canucks history to at least share the team lead in goals, assists and points in his first season with the club. Pettersson was a rookie when he did so.
* Miller has appeared in the Stanley Cup Playoffs in each of the past six years, four times with the Ranger (2014—2017) and twice with the Lightning (2018 & 2019). The most points by a Canucks player in his first postseason with the club is 15, set by Jeff Brown (6-9—15 in 1994) and matched by Mikael Samuelsson (8-7—15 in 2010).
* Pettersson followed up his 2018-19 rookie campaign (28-38—66 in 71 GP) with a 27-39—66 (68 GP) showing in 2019-20 to boost his career totals to 55-77—132 (139 GP). Among players to debut with the Canucks franchise, Pettersson required the third-fewest games to score 50 goals (124 GP), behind only Bure (82 GP) and Brock Boeser (110 GP).
* The Canucks ranked eighth in the NHL in 2019-20 with 228 goals (including shootout-deciding goals), the 16th time that they have placed among the top 10 and first since 2014-15. Despite playing only 69 games due to the pause, it also marked their highest goal total in five seasons (242 in 2014-15).
* Five of the Canucks' seven neutral-site contests have been one-goal affairs, including the franchise's last win in a neutral-site game on Oct. 3, 1997 against Anaheim in Tokyo. Franchise icon Pavel Bure scored the winning goal that day to give Vancouver a victory in the NHL's first regular-season game contested outside North America.
#NHLSTATS: MINNESOTA WILD
* Minnesota defeated Vancouver in seven games in their lone playoff meeting, during the 2003 Conference Semifinals. Marian Gaborik led all players with 5-6—11, the most points by any player in a single postseason series in Wild history.
* The Wild's triumph over the Canucks marked the second series victory in franchise history. Its first came a round prior, an upset against the third-seeded Avalanche in overtime of Game 7.
* Mikko Koivu has appeared in 55 playoff games, all with the Wild, the most by any player in club history and 11 more than Jonas Brodin, Jared Spurgeon and former teammate Charlie Coyle (all w/ 44 GP).
* The Wild captain is one of six players in NHL history to dress in at least 75% of his franchise's all-time playoff games (min. 50 playoff games by the club). Nashville's Pekka Rinne tops the list at 84.7%, dressing for 94 of its 111 all-time playoff games to date (playing in 89 and serving as backup in 5).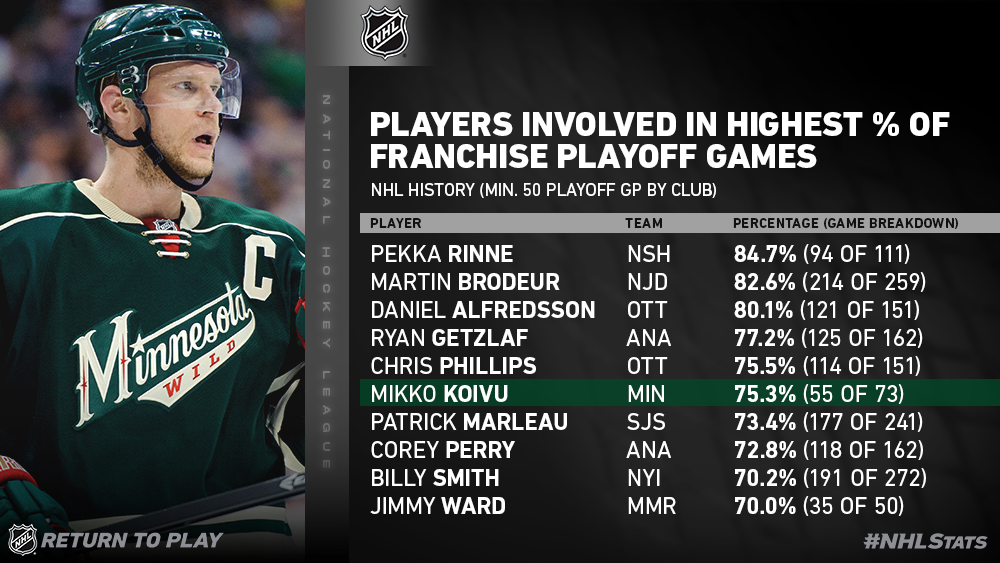 * Zach Parise has skated in 36 playoff games since signing with the Wild ahead of the 2012-13 campaign. The Minneapolis, Minn., native has since overtaken the franchise records for playoff goals (14) and points (31), while sitting tied with Koivu for first in assists (17). Before joining his home state team, Parise helped the Devils reach the 2012 Stanley Cup Final – sharing the team lead in goals (8) and ranking second on New Jersey in points (15) during the postseason.
* Eric Staal, a veteran of 16 NHL seasons, is the only Wild player to win a Stanley Cup, doing so with the Hurricanes as a sophomore in 2006. He led all players in postseason scoring with 9-19—28 in 25 games.
* In addition to Parise and Staal, two other Wild players have skated in the Final (min. 1 GP in NHL in 2019-20): Mats Zuccarello (2014 w/ NYR) and Kevin Fiala (2017 w/ NSH).
* Fiala collected 14-12—26 in 19 contests from Feb. 1 through the team's final game on March 8, the third-most points by any player over that span behind Oilers forward Leon Draisaitl (14-17—31 in 18 GP) and Rangers forward Mika Zibanejad (20-10—30 in 19 GP).
* Fiala became the first player in franchise history to record multiple points in five consecutive team games (5-6—11 from Feb. 25 to March 3), eclipsing the previous mark of four straight games set by Brian Rolston in 2005-06 and equaled by Gaborik in both 2006-07 and 2007-08.
* Ryan Suter has appeared in 78 career games during the Stanley Cup Playoffs, notching 6-23—29 in those contests while averaging 27:36 time on ice per game. Only three players have averaged a higher such total since Suter made his NHL debut in 2005-06 (min. 20 GP in playoffs).
* Minnesota is 2-1 in three all-time neutral-site games. In their last such contest, the 2016 Coors Light NHL Stadium Series at TCF Bank Stadium in Minneapolis, Minn., University of Minnesota alumnus Erik Haula posted 1-2—3 and earned 'First Star' honors to lift the Wild over the Blackhawks.
NOTABLE CONNECTIONS
Some notable connections between the Canucks and Wild:
* Canucks forward Brock Boeser was born in Burnsville, Minn., approximately 19 miles (30 kms) from Xcel Energy Center.
* Wild forward Mats Zuccarello and Canucks forward J.T. Miller were teammates with the Rangers from 2012-13 to 2017-18, highlighted by a trip to the Stanley Cup Final in 2014.