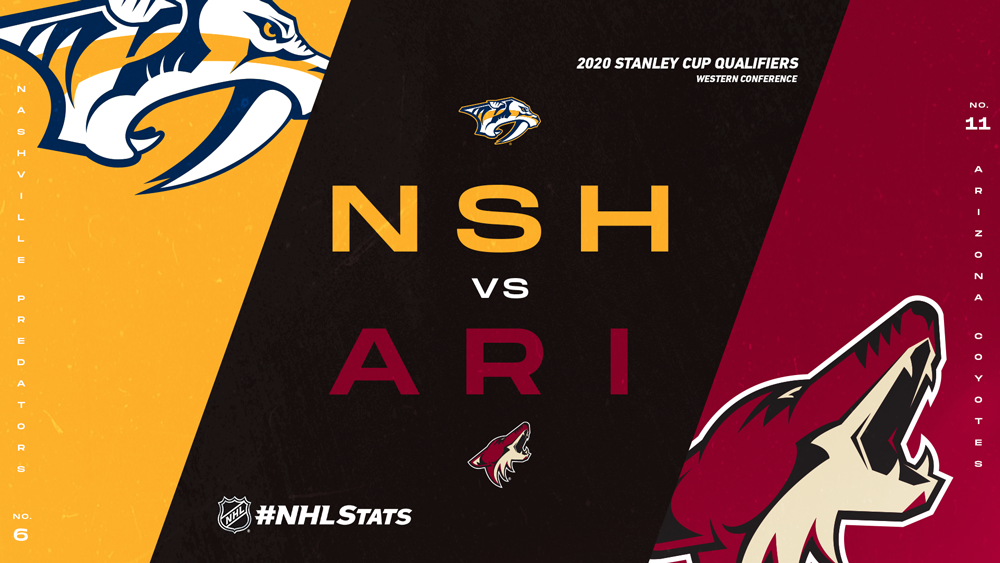 FOR IMMEDIATE RELEASE
NHL STATS & INFORMATION NOTES
2020 STANLEY CUP QUALIFIERS: NASHVILLE PREDATORS (6) VS. ARIZONA COYOTES (11)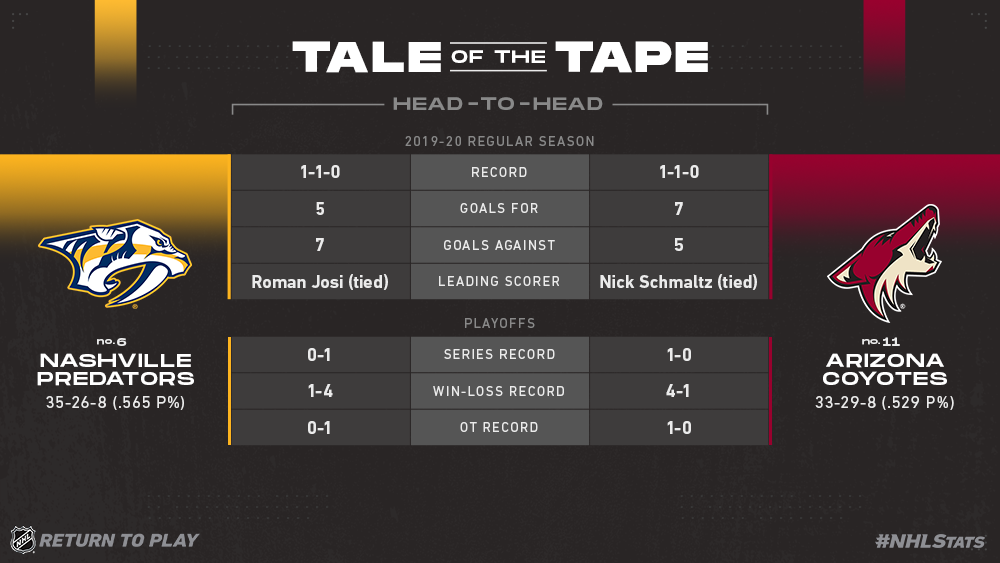 #NHLSTATS: NASHVILLE PREDATORS
* Five current Nashville players have dressed in all 61 postseason games contested by the franchise since 2015: Mattias Ekholm, Ryan Ellis, Filip Forsberg, Roman Josi and Pekka Rinne.
* Overall, 13 players remain with the club from their 2017 Stanley Cup Final appearance, including the five noted above (min. 1 GP in NHL in 2019-20). The others: Viktor Arvidsson, Calle Jarnkrok, Ryan Johansen, Juuse Saros, Colton Sissons, Craig Smith, Austin Watson and Yannick Weber.
* Additionally, Josi, Rinne and Smith faced the Coyotes in the 2012 Conference Semifinals – the only head-to-head playoff matchup between the franchises to date. Phoenix ousted Nashville in five games.
* Forsberg is Nashville's all-time leader in Stanley Cup Playoffs goals (23) and points (44), while Ellis owns the most postseason assists (25) in franchise history.
* Josi (10-22—32 in 71 GP) is the NHL's all-time leader in postseason goals, assists and points among Swiss-born players. He needs four Stanley Cup Playoffs goals to pass former teammate Shea Weber (13-15—28 in 59 GP) for sole possession of first place on the franchise list among defensemen.
* Josi (16-49—65 in 69 GP) led the Predators in scoring this season, concluding with a 17-point edge over Forsberg (21-27—48 in 63 GP). He became the eighth defenseman in NHL history to lead a team in scoring at the end of a season with at least 15 points over the next-closest skater(s).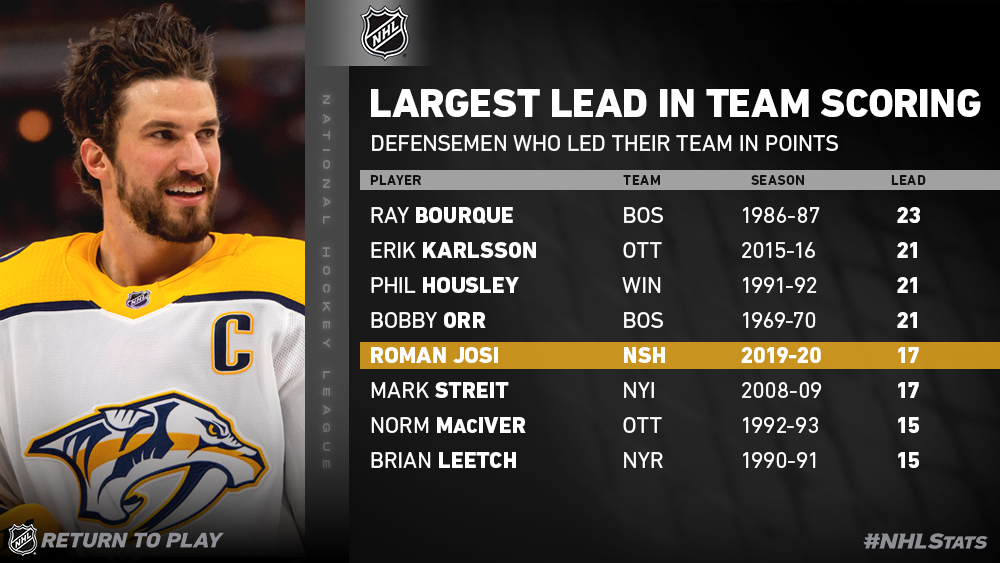 * Rinne is 45-44 in 89 career playoff appearances, the most postseason games in franchise history among all players. Only 12 different goaltenders in NHL history have appeared in 90 or more playoff games with one franchise – Henrik Lundqvist (128 GP w/ NYR) and Marc-Andre Fleury (115 GP w/ PIT) are the only active netminders among that cohort, while Braden Holtby (WSH) and Tuukka Rask (BOS) have also played exactly 89 with their respective clubs.
* Rinne is one of four goaltenders in NHL history to start in 89 or more consecutive postseason games contested by a franchise. The others: Martin Brodeur with the Devils (194 GS; 1994-2012), Patrick Roy with the Avalanche (133 GS; 1996-2003) and Lundqvist with the Rangers (127 GS; 2006-Present).
* Rinne is 20-9-2 in 32 career regular-season appearances against the Coyotes, with six shutouts – tied for second-most in NHL history against the franchise.
* Saros has made seven playoff appearances, all in relief. His seven career postseason appearances before his first playoff start is the longest such run in NHL history.
* Matt Duchene averaged a point-per-game during the 2019 playoffs (5-5—10 in 10 GP), which included 4-3—7 in the First Round to help Columbus complete the improbable sweep versus Tampa Bay.
* Nick Bonino is the only Stanley Cup winner among current Predators, claiming back-to-back championships with Pittsburgh in 2016 and 2017. He had 2-0—2 in two games against Nashville during the 2017 Final before joining the team a month later.
* Nashville is 1-2 in three all-time neutral-site games, including a 4-2 setback during the 2020 Bridgestone NHL Winter Classic against the Stars earlier this year at Cotton Bowl Stadium in Dallas.
* The Predators' neutral-site win occurred at Saitama Super Arena in Saitama, Japan on Oct. 6, 2000. At the time, Nashville's general manager David Poile (hired July 9, 1997) was beginning his third season with the franchise.
#NHLSTATS: ARIZONA COYOTES
* Arizona (then Phoenix) defeated Nashville in the Conference Semifinals of the 2012 Stanley Cup Playoffs en route to the Conference Finals, one of two series wins since the club relocated from Winnipeg in 1996-97. The Coyotes own a 2-8 record in 10 playoff series since relocation.
* Eleven of the franchise's 19 all-time postseason appearances occurred when the club was based in Winnipeg. The original Jets went 2-11 in 13 Stanley Cup Playoffs series, including six setbacks at the hands of the high-powered Oilers teams of the 1980s and early 1990s.
* One of the Jets' two series wins was under a best-of-five format, which occurred in the 1985 Division Semifinals (3-1 W vs. CGY). Overall, Winnipeg went 1-4 in five all-time best-of-five series (detailed in the PDF).
* Five players who dressed with the Coyotes in the 2012 Stanley Cup Playoffs remain in the NHL, including current Arizona captain Oliver Ekman-Larsson. The other four are Martin Hanzal (DAL), Mike Smith (EDM), Michael Stone (CGY) and Keith Yandle (FLA).
* Ekman-Larsson had 1-3—4 in 16 contests during the 2012 playoffs, including the clinching goal in Game 6 of the Conference Quarterfinals which powered the Coyotes to their first series win since relocation. He is the only defenseman in franchise history to score a series-clinching goal – forwards Ron Wilson (1985 DSF vs. CGY), Gilles Hamel (1987 DSF vs. CGY) and Hanzal (2012 CSF vs. NSH) account for the club's other three.
* Ekman-Larsson, who was 20 during the 2012 playoffs, became the youngest defenseman in NHL history to score a series-clinching goal.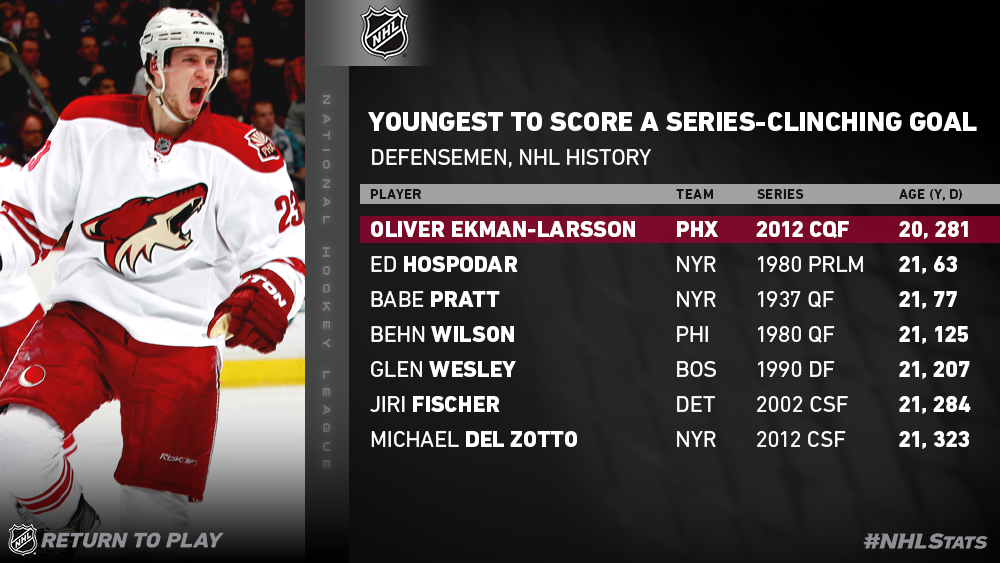 * Niklas Hjalmarsson won the Stanley Cup three times in six seasons as one of the Blackhawks' cornerstone defensemen (2010, 2013 & 2015). Current Coyotes Phil Kessel (2016 PIT & 2017 PIT), Brad Richardson (2012 LAK) and Alex Goligoski (2009 PIT) also are Cup winners.
* Kessel has 77 career playoff points (33-44—77 in 87 GP), the most among current Arizona players. Kessel recorded at least 20 postseason points in both 2016 (10-12—22 in 24 GP) and 2017 (8-15—23 in 25 GP) – his 2017 totals include 1-3—4 in the Stanley Cup Final versus Nashville (6 GP).
* Taylor Hall has 10-17—27 in 35 games since being acquired by the Coyotes. His lone playoff appearance came in 2018 after he won the Hart Memorial Trophy with New Jersey (2-4—6 in 5 GP).
* Derek Stepan has 19-30—49 in 97 career postseason contests, posting 5-10—15 in 24 games with the Rangers during their run to the 2014 Stanley Cup Final. His 97 career games in the Stanley Cup Playoffs are the second-most among current Coyotes behind Hjalmarsson (128 GP).
* The Coyotes franchise is 4-2 in six all-time neutral-site games, including 1-1 in two contests since relocation which both occurred at O2 Arena in Prague, Czech Republic (detailed in the PDF).
* Two of the Jets' neutral-site wins were eight-goal outbursts at SaskPlace in Saskatoon, Sask. during the 1992-93 season (detailed in the PDF). Jets forward Teemu Selanne scored a goal in each of those contests, accounting for two of his 76 during that campaign – which remain a single-season NHL record for most by a rookie.
NOTABLE CONNECTIONS
Some notable connections between the Predators and Coyotes:
* Taylor Hall and Ryan Ellis skated three seasons together from 2007-08 to 2009-10 with the Windsor Spitfires of the OHL, capturing the Memorial Cup twice.
* Phil Kessel and Nick Bonino were teammates with Pittsburgh from 2015-16 to 2016-17, capturing back-to-back championships with the club.
* The Coyotes will join the Predators in the Central Division in 2021-22 when Seattle plays its inaugural season. Seattle will begin play in the Pacific Division.