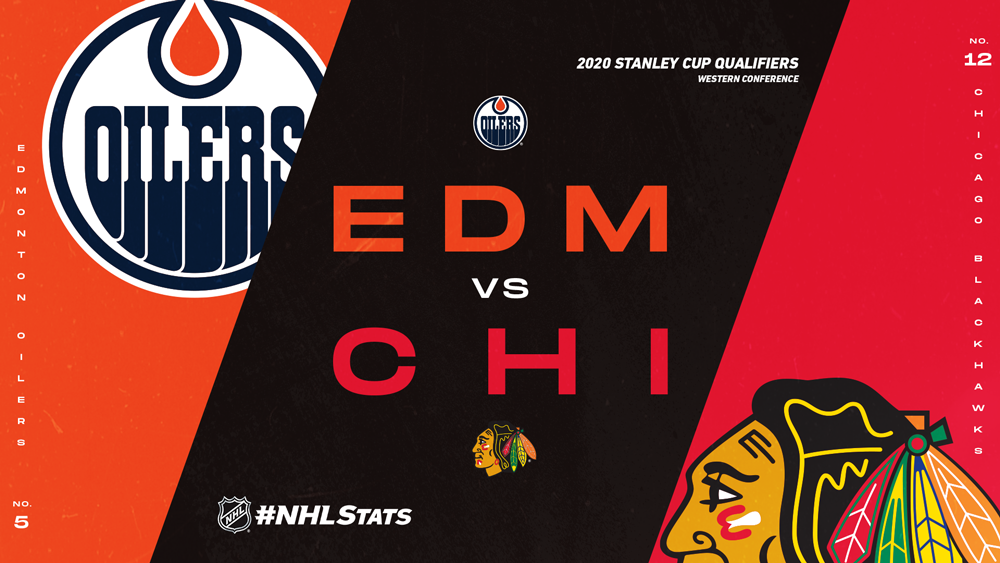 FOR IMMEDIATE RELEASE
NHL STATS & INFORMATION NOTES
2020 STANLEY CUP QUALIFIERS: EDMONTON OILERS (5) VS. CHICAGO BLACKHAWKS (12)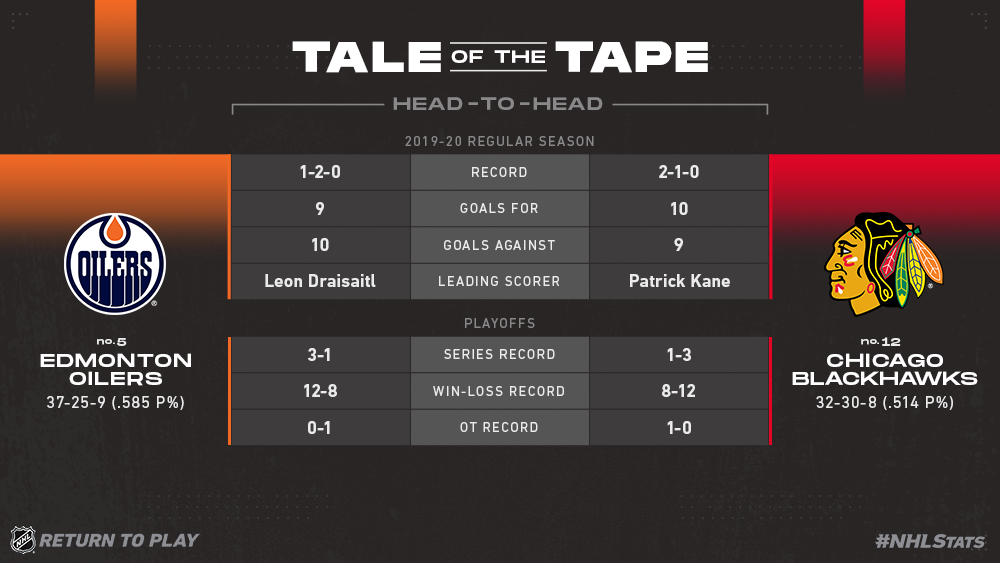 #NHLSTATS: EDMONTON OILERS
* Edmonton is 5-2 in seven all-time best-of-five Stanley Cup Playoffs series, including a 4-0 mark in its last four which were all won via sweep (detailed in the PDF). The Oilers' win percentage of .714 in best-of-five series is tied for the second-highest among current NHL franchises.
* Edmonton earned an 11-2 win over Chicago in Game 1 of the 1985 Conference Finals, which at the time was a franchise record for most goals in a postseason contest.
* Overall, Edmonton outscored Chicago by a 44-25 margin in the 1985 Conference Finals, including a second contest where it notched a double-digit goal total (also Game 5: 10-5 W). The Oilers' 44 goals remain an NHL record for most in a Stanley Cup Playoffs series by one team.
* Leon Draisaitl and Connor McDavid, who ranked first and second, respectively, in NHL scoring this season, each made their playoff debut in 2017. Draisaitl led Edmonton with 6-10—16 (13 GP) – highlighted by a five-point showing in Game 6 of the Second Round – while McDavid had 5-4—9 (13 GP).
* Draisaitl's five-point outing in 2017 was the 17th time an Oilers skater recorded at least five points in a playoff game and the first instance since Jari Kurri in Game 2 of the 1990 Stanley Cup Final in Boston.
* Draisaitl is one of five players to record 16 or more points in his first 13 playoff games with the Oilers.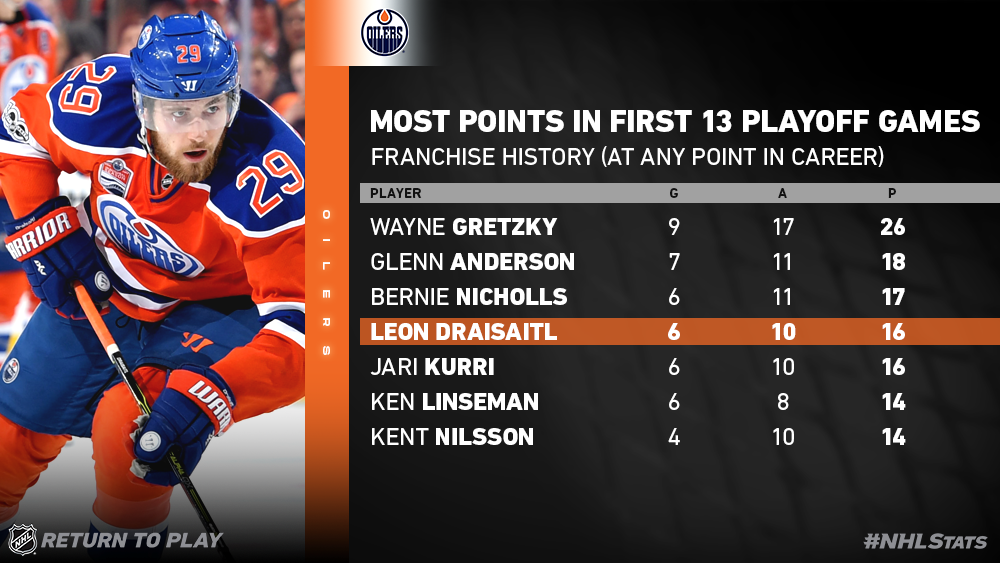 * Draisaitl (2019-20) and McDavid (2016-17 & 2017-18) have combined to win the Art Ross Trophy in three of the last four seasons. The Penguins are the only other NHL team with two Art Ross Trophy winners on its current roster (Sidney Crosby: 2006-07 & 2013-14; Evgeni Malkin: 2008-09 & 2011-12).
* At age 23, McDavid already is a two-time winner of the Art Ross Trophy. Outside of McDavid, who is just five seasons into his NHL career, the 14 other players to win the award multiple times have all won the Stanley Cup at least once in their career.
* In addition to Draisaitl and McDavid, seven other players who dressed at least one game with Edmonton in the 2017 Stanley Cup Playoffs remain with the team: Matt Benning, Zack Kassian, Oscar Klefbom, Adam Larsson, Ryan Nugent-Hopkins, Darnell Nurse and Kris Russell.
* James Neal has 55 career playoff points (31-24—55 in 104 GP), including 4-2—6 in 10 games versus Chicago. His 104 career postseason appearances, which include 11 games during the Stanley Cup Final (2017 w/ NSH: 6 GP; 2018 w/ VGK: 5 GP), are the most among current Oilers.
* Mike Smith is 11-12 in 24 career playoff appearances, including a 4-2 record with the Coyotes against the Blackhawks in the 2012 Conference Quarterfinals under the guidance of now-Oilers head coach Dave Tippett. His career postseason save percentage of .938 is the highest among NHL goaltenders who have made at least 10 playoff appearances (since 1955-56 when shots on goal were officially tracked).
* Smith and Neal are the only Oilers with playoff experience against the Blackhawks. Josh Archibald (2017 PIT) and Alex Chiasson (2018 WSH) are the only Stanley Cup winners currently with Edmonton.
* The Oilers are 1-5-1 in seven all-time neutral-site games. Their win came during the 2016 Tim Hortons NHL Heritage Classic at Investors Group Field in Winnipeg, Man.
#NHLSTATS: CHICAGO BLACKHAWKS
* Four of Chicago's cornerstone players who won the Stanley Cup three times in six seasons (2010, 2013 & 2015) remain with the team: Patrick Kane, Duncan Keith, Brent Seabrook and Jonathan Toews. Current Blackhawks Corey Crawford, Brandon Saad and Andrew Shaw won two of the three.
* In total, players on the Blackhawks roster (min. 1 GP in 2019-20) have a combined 20 Stanley Cup rings – only the Penguins (22) and Blues (21) have more among resuming teams.
* Kane has 123 career playoff points (50-73—123 in 127 GP), fourth-most in franchise history behind Stan Mikita, Denis Savard and Bobby Hull. Toews (40-70—110 in 128 GP) ranks sixth in franchise history, while Keith (18-63—81 in 126 GP) is seventh (and tops among Chicago defensemen).
* Kane also owns the third-most postseason points in NHL history among U.S.-born players behind Mike Modano (58-88—146 in 176 GP) and Chris Chelios (31-113—144 in 266 GP). Kane also ranks third among U.S.-born players with a 0.97 points-per-game rate in the playoffs (min. 50 GP), trailing Kevin Stevens (1.03 P/GP) and Brian Leetch (1.02 P/GP).
* Kane and Toews' career playoff point totals sum to 233, third-highest of any pair of current teammates.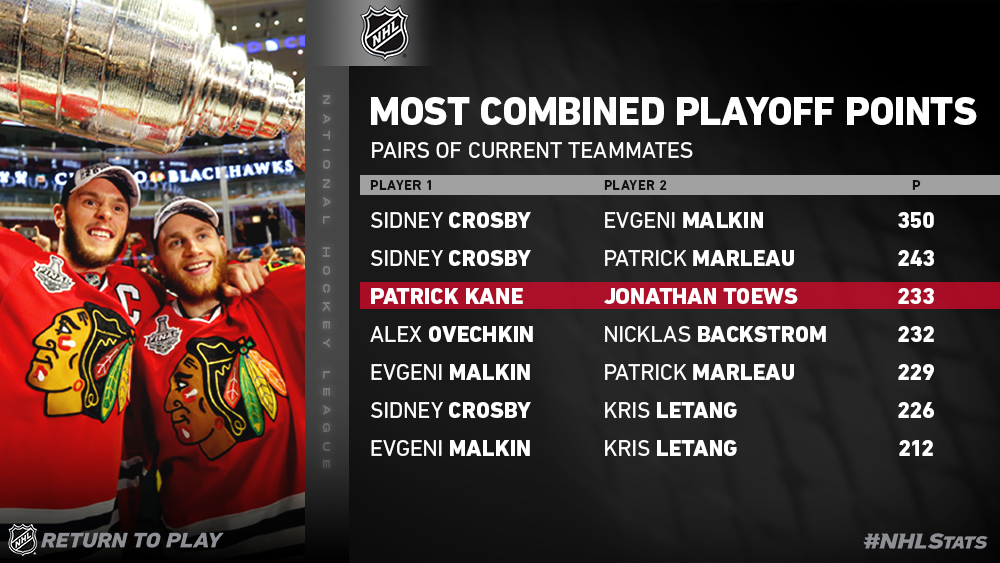 * Dominik Kubalik led all rookies with 30 goals in 2019-20 (30-16—46 in 68 GP). Including the regular-season and Stanley Cup Playoffs, the most goals scored by a Chicago rookie in a single season is 48 – achieved by Steve Larmer in 1982-83 (43 G in regular season, 5 G in playoffs).
* The Blackhawks earned their only series win versus the Oilers via a four-game sweep in the 1992 Conference Finals. Jeremy Roenick and Larmer led all scorers with 4-4—8 apiece, powering the club to its first Stanley Cup Final appearance since 1973.
* Chicago has played 43 neutral-site games in the regular season (9-24-10), including nine in 1928-29. The franchise was slated to play in the new Chicago Stadium that season, but due to construction delays the Black Hawks instead divided their home games between Chicago Coliseum, Peace Bridge Arena (Fort Erie, Ont.), Detroit Olympia (Detroit, Mich.) and Border Cities Arena (Windsor, Ont.).
* From 1954-55 to 1955-56, the Black Hawks played 11 neutral-site games at St. Louis Arena (approximately 300 miles from Chicago Stadium) – a venue owned by team executive James D. Norris.
NOTABLE CONNECTIONS
Some notable connections between the Oilers and Blackhawks:
* Patrick Kane (2015-16), Connor McDavid (2016-17 & 2017-18) and Leon Draisaitl (2019-20) have combined for four Art Ross Trophy wins over the past five seasons.
* In 2014-15, McDavid and Alex DeBrincat combined for nearly 300 points across the regular season and playoffs as teammates with the Erie Otters of the OHL. McDavid was named CHL Player of the Year, while DeBrincat received CHL Rookie of the Year honors.