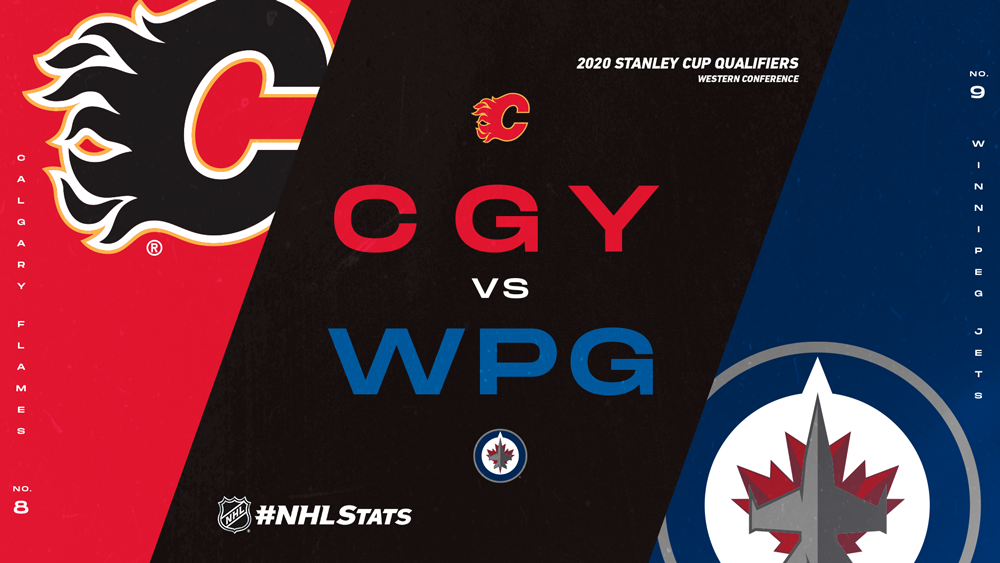 NHL STATS & INFORMATION NOTES
2020 STANLEY CUP QUALIFIERS: CALGARY FLAMES (8) VS. WINNPEG JETS (9)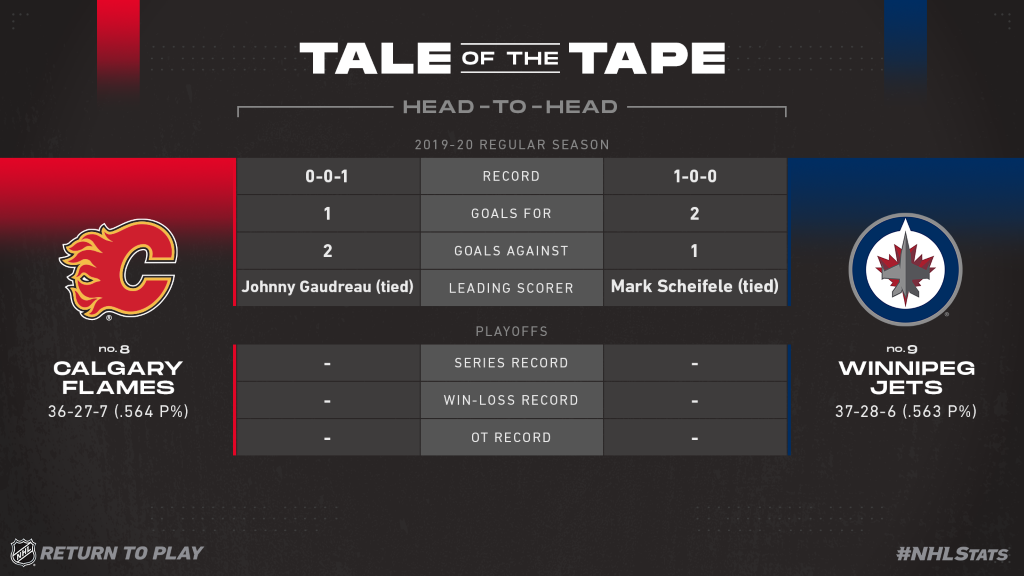 #NHLSTATS: CALGARY FLAMES
* Milan Lucic (2011 BOS) is the only Stanley Cup champion on the Flames' roster. Overall, 20 of 24 resuming teams have at least one Cup winner, with the opposing Jets as one of four teams without. The Flames-Jets matchup is the only best-of-five series with fewer than two combined Cup wins.
* Calgary has won one playoff series since it reached Game 7 of the 2004 Stanley Cup Final, defeating Vancouver in the 2015 First Round. Six Flames recorded at least three points in their series-clinching Game 6 victory, including 1-2—3 from both Johnny Gaudreau and Sean Monahan.
* Only five current Flames played for the team during the 2015 postseason: Gaudreau, Monahan, TJ Brodie, Sam Bennett and Mikael Backlund. Captain Mark Giordano played in 61 games during the 2014-15 regular-season, but an injury sidelined him for each of Calgary's 11 playoff games.
* The Flames matched an NHL record during their run to the 2004 Final by playing 26 games in one postseason. At the time, only the 1987 Flyers had played as many games in one playoff year.
* Matthew Tkachuk led the team in points this season (23-38—61 in 69 GP), highlighted by six contests with three-plus points. His 15 career games with three or more points ranks third among players from the 2016 NHL Draft class behind Auston Matthews (22) and Patrik Laine (17).
* Gaudreau led Calgary with 40 assists in 2019-20. He has 151-294—445 in his career (464 GP), including 444 points since 2014-15 – his first full NHL season – to rank 10th in the League in that span and third among U.S.-born players behind Patrick Kane (211-318—529) and Blake Wheeler (143-317—460).
* Monahan (22-26—48 in 70 GP) was one of three 20-goal scorers with the Flames in 2019-20, behind team goals leader Elias Lindholm (29 G in 70 GP) and Tkachuk (23 G in 69 GP). It was the seventh consecutive 20-goal season for Monahan to begin his NHL career, setting a franchise record – besting the previous mark of six set by Kent Nilsson between Atlanta and Calgary.
* Monahan now is one of four players in franchise history to record seven consecutive 20-goal seasons at any point in his career, joining Jarome Iginla (13), Theo Fleury (10) and Joe Nieuwendyk (8).
* Monahan's scoring prowess extends into the Stanley Cup Playoffs, with 8-5—13 through his first 20 postseason contests. Among players to debut with the Flames franchise, only Iginla and Willi Plett had more goals through their first 20 career playoff games.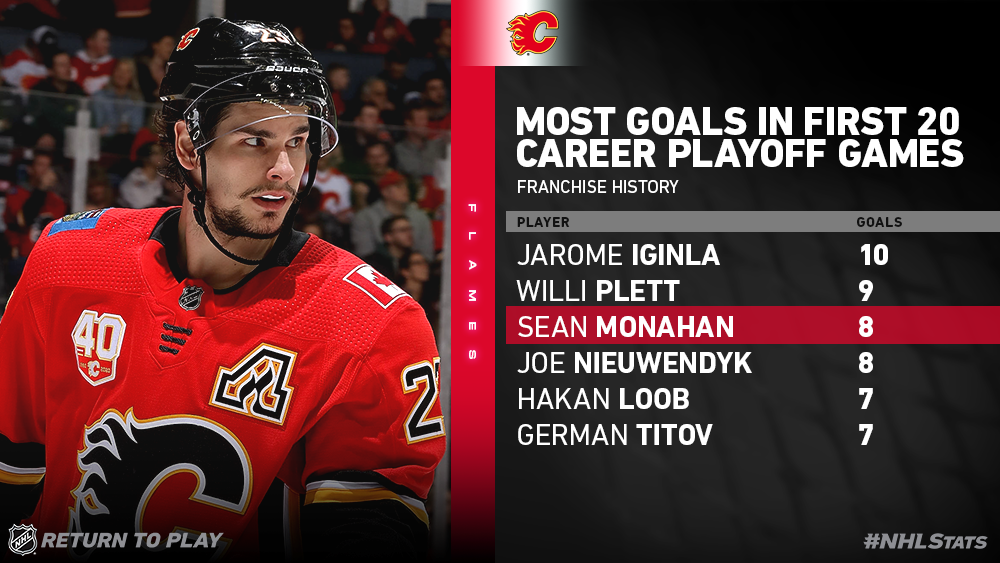 * The Flames have only one regulation loss in eight neutral-site games (3-1-4) in franchise history, a 4-3 defeat at the hands of the Canucks on Dec. 23, 1993 at SaskPlace in Saskatoon, Sask. SaskPlace also was the site of the club's first ever neutral-site game on Oct. 13, 1992 against the Minnesota North Stars.
#NHLSTATS: WINNIPEG JETS
* The Jets' deepest playoff run came in 2018 when they advanced to the Conference Finals, before falling to the Golden Knights in five games. That postseason included the only two playoff series wins in franchise history (4-1 W vs. MIN in R1 and 4-3 W vs. NSH in R2).
* The Jets are the most recent Canadian team to reach at least the Conference Finals, accounting for one of five such instances since 2010 (MTL in 2010 and 2014; VAN in 2011; OTT in 2017 and WPG in 2018).
* Blake Wheeler (Plymouth, Minn.), who leads Jets skaters with 48 career playoff games, aims to become the first player born outside Canada to captain a Canadian team to a Stanley Cup.
* Wheeler is Winnipeg's all-time leader in Stanley Cup Playoffs assists (22) and points (27), while Mark Scheifele owns the most postseason goals (16) in franchise history.
* Scheifele has scored 12 of his 16 career playoff goals as a visitor, all over the last three postseasons – tied for second in road goals behind Alex Ovechkin over that span.
* Scheifele scored seven goals at Nashville in the 2018 Second Round to establish a Stanley Cup Playoffs record for most road goals in a single series, eclipsing the previous mark of six achieved 10 times – most recently by Marian Gaborik with the Kings in the 2014 Second Round at Anaheim.
* Overall, Scheifele's seven goals against Nashville were the highest single-series total by a player since 2010 and remain one of eight such performances since the 2000 Stanley Cup Playoffs.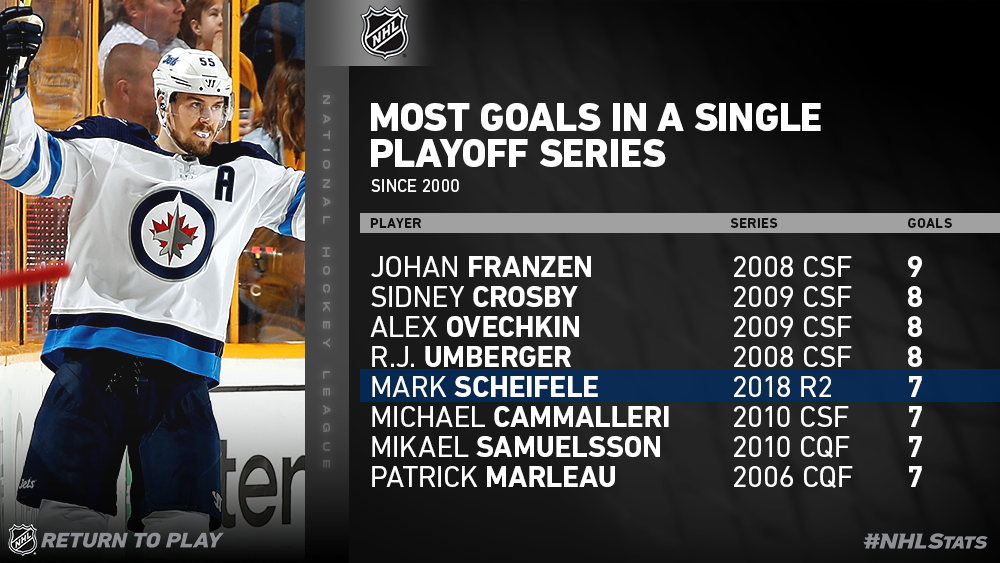 * Patrik Laine has 8-8—16 in 23 career playoff games, including goals in three straight games to begin the 2019 Stanley Cup Playoffs. Among players to appear in at least 10 postseason games for the franchise, Laine's career goals-per-game of 0.35 in the playoffs trails only Scheifele (0.59).
* Kyle Connor led the Jets with 38 goals during the 2019-20 campaign. He sits two playoff goals shy of becoming the third player in Jets team history (since 2011-12) to score at least 40 goals in single year, including playoffs. The others: Laine (49 in 2017-18) and Scheifele (40 in 2018-19).
* Connor Hellebuyck, the only goaltender in Jets/Thrashers franchise history to record a playoff win (11-12), sits three victories shy of moving past Robert Esche (13th; 13-11) and Chris Terreri (12th; 12-12) on the NHL's all-time playoff wins list among U.S.-born goaltenders.
* Paul Maurice, who reached the Stanley Cup Final with Carolina in 2002, has served the most regular-season games as a head coach without winning a championship (Maurice: 1,600; Lindy Ruff: 1,493; Ron Wilson: 1,401; Pat Quinn: 1,400; Jacques Martin: 1,294).
NOTABLE CONNECTIONS
Some notable connections between the Flames and Jets:
* Flames forward Johnny Gaudreau and Jets teammates Mark Scheifele and Connor Hellebuyck played together with Team North America during the 2016 World Cup of Hockey.
* Bryan Little (1st; 153-189—342 in 247 GP), Andrew Mangiapane (5th; 118-143—261 in 195 GP) and Mark Scheifele (9th; 84-133—217 in 158 GP) all rank within the top 10 on the Barrie Colts' all-time regular-season points list.